09/11/10 20:56
A very long time since the last blog entry - you would be forgiven for thinking that all was quiet here in the Darkroom. No so - things have been chugging along behind the scenes, though slower than usual, mostly due to me devoting a huge amount of my time to recent developments at
Expert Sleepers
.
Since I last posted, work on the new album has continued, and we also undertook a rather unusual project which has resulted in a single release and couple of videos - more on that later.
Here I wanted to post some photos of a recent recording session for the new album. Until a few weeks ago it was a thoroughly electronic affair, but after putting together the almost-final sequence of the album we decided that two tracks (the first and the last, oddly) needed some 'real drums'. So we roped in long-time
Improvizone
collaborator (and Some Of These Numbers Mean Something contributor) Andrew Booker for a recording session at London's Bally Studios.
The Flickr set is
here
.
Andy was playing his
beautifully refurbished 60's Ludwig kit
.
Microphones used: Rode NT-2-A, Rode NT-1, Yoga BM-38 PZM, AKG C1000, Audio Technica AT4033a
Recorded through my trusty Metric Halo Mobile I/O 2882.
Os, November 2010

11/06/08 19:46
14th May 2008 - the second 'audit' session for the new album, and time for a few overdubs. One track only needed a little extra guitar (it must've only had, like, 10 guitar parts at that point).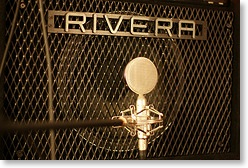 Mike had a new cheapo Chinese ribbon mic he wanted to try out - the
T.BONE RM700
. It's an odd looking thing - like a big metal lollipop. We stuck it in front of Mike's awesome Rivera amp and cranked it up.
The sound is - interesting. Makes things sound a bit old and knackered. Also it turns out there was a nasty resonant buzz on something - maybe the mic, maybe the cab - but fortunately we recorded a DI signal too. You should still be able to hear some of the buzz on the album, where we felt it was tasteful rather than annoying.
os, June 2008

09/05/08 18:12
16th April 2008 saw an unusual (though not unique) event in the Darkroom calendar - a drum recording session. I'd identified a need for some proper, acoustic drums (you know, real things that a real person is beating hell out of, rather than something programmed) on the new album, so we enlisted the fine drummer that is Andrew Booker to help us out. (We've performed with Andy many times recently, both at the
Improvizone
gigs and the Darkroom one-off at the
Green Dragon
recently.)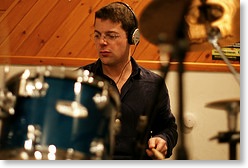 Andy did us proud, recording some excellent grooves for about half a dozen tracks.
For the gear-heads reading: we used four mics in total. Andy's
Blue Ball
was in the kick drum. The snare was covered by a dynamic mic of some sort, which I think was the rehearsal room's. Probably an SM-57. We had one half of a matched pair of
Rode NT5
s as a close-ish overhead, somewhere over the hi-hat. For some reason we didn't use the other one of the pair. Finally we had my trusty
Rode NT2-A
as an other-side-of-the-room overhead-cum-everything mic. We've been able to get a very nice sound in the mix from this, somewhat random and thrown-together, selection.
os, May 2008