Darkroom to play at the Antwerp Loopfest
18/03/09 11:12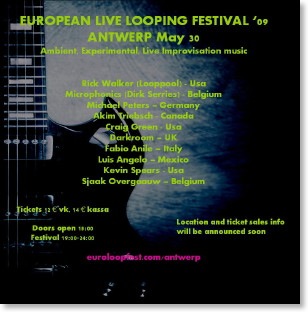 It's official - we're off to Antwerp this May to play at the Antwerp Loopfest. Or, to give it its full title, the EUROPEAN LIVE LOOPING FESTIVAL '09 ANTWERP MAY 30.
The official festival site is
here
.
Once more we'll be joined by drummer
Andrew Booker
. Apparently the whole festival is going to be recorded, so watch out for details on that sometime after May 30th, I guess.
See you there!
Os, March 2009